March 15, 2020
Michael Jeans, President & CEO of Growth Opps speaks on the impact of COVID-19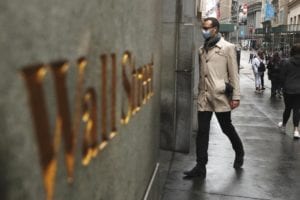 Cleveland, Ohio (March 15,2020) – By now many of you may be aware the Fed and Treasury Department took steps today to cut short-term overnight rates to zero (second time in U.S. history) and a $700B QE package, respectively. Unfortunately, the foreign markets have not responded well and it looks to be a rough market ride Monday with an implied open of -1,242.62 and limits low being triggered to halt premarket trading.
At the state level with local impact, Ohio Governor DeWine has taken proactive steps to slow the community transfer of COVID-19, also Coronavirus. Among these steps are (1) remote education for K-12 students for at least 3 weeks; (2) ban on crowds larger than 100 persons; and as of today (3) an order to shut down on-site dining and drinking at Ohio restaurants and bars.
There is so much I would like to share, related to global impact, global response, testing, social or physical distancing, inventories, potential restated earnings, layoffs, potential credit downgrades, monetary policy, and more. Perhaps I will address some of those at a subsequent opportunity. For now, I would like to offer guidance for restaurants and businesses affected by recent events.
Consider new or additional ways to take your company products or services to the customer/client/market. You may not need to layoff immediately, but your distribution models may need to change.
Determine whether you can increase sales via the internet or physical delivery. If physical delivery is an option, consider new procedures for the safety and well-being of your employees.
Review and adjust your sales process. If your process has relied upon the face to face sale, consider how that sales call can occur by using technology. Note: for example, if you have a painting company, consider using a digital device to communicate with the homeowner or buyer while standing outside of the home, while adhering to social distancing (which the homeowner or buyer may appreciate in this environment). Then email your proposal before leaving the property.
Consider adjusting your current mix of foot traffic revenue versus virtual or digital revenue. You may need to increase virtual procedures and sales, to offset your ability to get "in-front" of your client or potential client. Note: If you have a painting company, consider increasing exterior jobs rather than interior. These are likely larger ticket items, the exterior painting season begins in a few weeks, and it would reduce face to face interactions necessary, to complete the work.
Hopefully by now, you have access to some form of data or big data, regarding your clients. To the extent you do, reach out to each of your current clients and find ways to add value by solving one or two (or more) new problems they now have. Mine your book of clients. They already trust you, so the only new variable is the delivery mechanism.
Look for ways to innovate? Are there new challenges, which require innovative solutions? Which of those challenges can be solved with your expertise and the skillsets of your employees?
The SBA is offering low interest loans up to $2 million for small business owners (businesses with 500 employees or less). While all the details are not yet clear (at least to me) and I prefer you find solutions during this time, that do not add debt to your balance sheets, if rates are low enough, the low cost of capital for up to 30 years could help you weather this storm.
If you have a personal home mortgage, consider refinancing. Mortgage rates are on average at 50 year lows. If you have a 15 year mortgage, a 30 year mortgage may make sense for you, further reducing your monthly mortgage expense.
What I hope I am articulating is while this environment is painful, with the right perspective, guidance, fortitude, and yes, a bit of luck, you may be able to find opportunities that will serve you well when we get beyond the effects of this pandemic. This is by no means business as usual and I hope by now that is clear. We cannot pretend this is a bad cold or just another flu. This one is hitting individuals, families, businesses, schools, municipalities, religious organizations, nations, and markets all at once. My friends, let's respect it for the blow it is delivering. That being written, this is when leaders are tested and how we respond will position our companies, organizations, and people one way or another. With each major market influence, we are afforded an opportunity to fine tune the ways, in which we go about our businesses. Let's dig deep. Let's generate revenue in new ways, which could improve operating efficiencies. If we can make the necessary adjustments now, we can keep more people working, continue to grow our businesses, and be even better positioned for the next economic and market cycle.
Please reach out to your professional and personal advisors for guidance. If my team or I can assist you with strategic thinking and planning for these uncertain times, please feel free to send an email to [email protected]. Whether we hear from you or not, my team and I wish you and your families good health and well-being.
Be good to each other and be well.
Michael
See original LinkedIn post.
To learn more about Growth Opps or to keep up-to-date on new developments and activities, please visit www.growthopps.org, follow us on Twitter, Facebook, LinkedIn and Instagram and subscribe to our channel on YouTube.