May 28, 2019
Ndeda N. Letson and Michael Jeans Share All About The Partnership
CLEVELAND, OHIO (May 28, 2019) – Citizens Bank and Growth Opps have a long-standing financial partnership to support the community offering financial education. Citizens Bank provided $120,000 to 11 non-profit organizations of which Growth Opps was one.
Ndeda N. Letson, is Vice President of Midwest Community Development at Citizens Bank and serves as the Chairwoman of the Board of Directors at Growth Opps. Ms. Letson and Michael Jeans, President & CEO of Growth Opps sat down with Alexa Lee and Michael Estime of WKYC NBC's Live on Lakeside to discuss their partnership and work in the community.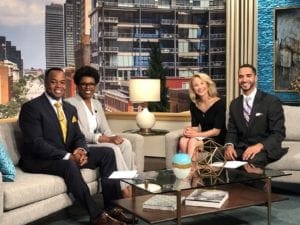 "The strength of Citizens Bank's business is directly tied to the strength of our communities," said Ndeda N. Letson. Financial literacy plays an important role in contributing to the economic success of communities. "For us it's about people, the people make the assets of the community and that's what makes it all work," said Michael Jeans. Growth Opps assist business owners by providing advisory services or capital in the form of a loan to position the company for growth and to create Meaningful Wage Jobs.
Watch the full interview here. To learn more about Growth Opps or to keep up-to-date on new developments and activities, please visit www.growthopps.org, follow us on Twitter, Facebook, LinkedIn and Instagram and subscribe to our channel on YouTube.
About Growth Opps
At Growth Opportunity Partners ("Growth Opps"), we offer community development capital, services and solutions to growing small businesses, primarily located in underserved, low and moderate income (LMI) communities in Ohio. GO Advisory accesses industry expertise and diverse talent to provide the solutions you need to address challenges your company faces. GO Capital is tailored to fund your business model when you need it.
About Citizens Financial Group, Inc.
Citizens Financial Group, Inc. is one of the nation's oldest and largest financial institutions. Headquartered in Providence, Rhode Island, Citizens offers a broad range of retail and commercial banking products and services to individuals, small businesses, middle-market companies, large corporations and institutions. Citizens helps its customers reach their potential by listening to them and by understanding their needs in order to offer tailored advice, ideas and solutions. For more information about Citizens, visit the Citizens website.