June 30, 2019
Vanessa Whiting and Sheila Wright Lead a Discussion on
Breaking Down Barriers and Identifying Success Strategies for Entrepreneurs of Color
CLEVELAND, OHIO (June 30, 2019) – Each year the Cleveland Foundation provides a framework for community members to come together to discuss issues they care about through its Common Ground event. Vanessa Whiting and Sheila Wright convened a meeting within the Growth Opps office to discuss ways to break down barriers facing entrepreneurs of color.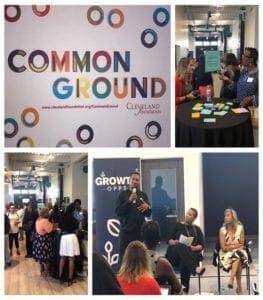 The panel discussion included Michael Jeans, President & CEO of Growth Opps, David Reynolds, a Senior Vice President at Key Private Bank, Darrell McNair, President & CEO of MVP Plastics Corp., Vanessa Whiting, President at A.E.S. Management dba Popeyes Louisiana Kitchen and Sheila Wright, Vice President of the Good Community Foundation.
To learn more about Growth Opps or to keep up-to-date on new developments and activities, please visit www.growthopps.org, follow us on Twitter, Facebook, LinkedIn and Instagram and subscribe to our channel on YouTube.
About Growth Opps
At Growth Opportunity Partners ("Growth Opps"), we offer community development capital, services and solutions to growing small businesses, primarily located in underserved, low and moderate income (LMI) communities in Ohio. GO Advisory accesses industry expertise and diverse talent to provide the solutions you need to address challenges your company faces. GO Capital is tailored to fund your business model when you need it.