July 17, 2019
The Soul Of Philanthropy and Growth Opps team up to celebrate Those Who Give Black
CLEVELAND, OHIO (July 17, 2019) – The Soul of Philanthropy Cleveland hosted a reception at Growth Opps' office to inform others of the exhibition coming to Cleveland September 6th through December 6th of 2019. The exhibition is designed to tell the story of Black philanthropy in our region by honoring the past, celebrating the present, and inspiring the future. Growth Opps is proud to become a Philanthropy Improvement Sponsor supporting The Soul of Philanthropy Cleveland. The evening was filled with giving, networking and storytelling of those who choose to give black. In addition to a contribution from Growth Opps, Michael and Areli Jeans made a personal contribution of $10,000, as a founding contribution to the Cleveland Black Equity & Humanity Fund.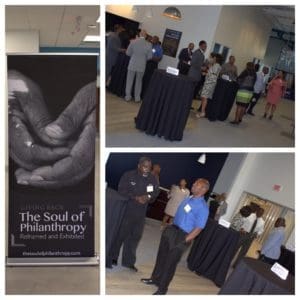 African Americans give 8.6 percent of their discretionary income to charity – more than any other racial group in America. "Black communities have significant giving power, and black communities give to the tune of 11 billion charitable dollars", said Michael Jeans, President and CEO of Growth Opps.
Thank you to our interns La'Marr Bowen, January Claytor, Naomi Hardin, Connor Boclear, and Shalea Williams for assisting with hosting the event and all those who came out to support the organization.
To learn more about Growth Opps or to keep up-to-date on new developments and activities, please visit www.growthopps.org, follow us on Twitter, Facebook, LinkedIn and Instagram and subscribe to our channel on YouTube.
About Growth Opps
At Growth Opportunity Partners ("Growth Opps"), we offer community development capital, services and solutions to growing small businesses, primarily located in underserved, low and moderate income (LMI) communities in Ohio. GO Advisory accesses industry expertise and diverse talent to provide the solutions you need to address challenges your company faces. GO Capital is tailored to fund your business model when you need it.